16 min read
Don't Have In-Ground Irrigation? DIY Sprinkler System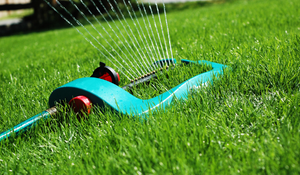 If you're tired of watering your lawn and garden by hand, it may be time to consider installing a sprinkler system. A professionally installed sprinkler system can be costly, but with a little effort and some DIY skills, you can create your own sprinkler system that will water your lawn and garden efficiently and cost-effectively.
Steps to create a DIY sprinkler system for your home. Above-ground and In-ground
Gather Supplies To build your own sprinkler system, you'll need a few supplies:
Garden hose
Sprinkler heads
PVC pipes
PVC elbows and connectors
PVC cement
Teflon tape
Timer
Drill and drill bit
Plan Your System Before you start digging and installing pipes, you'll need to plan your sprinkler system. Start by measuring the size and shape of your lawn and garden. Decide where you want to place the sprinkler heads and mark those spots. Plan the location of the PVC pipes that will carry the water to the sprinkler heads.

Install PVC Pipes and Fittings Once you have your plan in place, you can start installing the PVC pipes and fittings. Begin by cutting the pipes to the desired length using a saw. Attach the PVC elbows and connectors to the pipes, and use PVC cement to secure them in place. Add Teflon tape to the threaded connectors to prevent leaks.

Install Sprinkler Heads Once the PVC pipes and fittings are in place, it's time to install the sprinkler heads. You can use a drill to create holes for the sprinkler heads in the PVC pipes. Insert the sprinkler heads and secure them in place with clamps.

Connect the System Once you have all the pipes and sprinkler heads installed, it's time to connect the system to a water source. You can connect the system to a garden hose or a dedicated water line. Install a timer to regulate the watering schedule.

Test the System Before you start using your new sprinkler system, it's essential to test it for leaks and efficiency. Turn on the water and check for leaks in the pipes and fittings. Make sure the sprinkler heads are working correctly and adjust them as needed.
Good News!
We've researched some awesome DIY above-ground sprinklers made specifically for specific areas of your lawn, and tips and recommendations that will set you up for success both easily and cost-effectively.
These recommended DIY systems are simple to install and don't require digging if you don't want to. Here are a few ideas that will elevate your watering issues and save you big bucks! –
Spigot timer
Different types of sprinklers for different landscape areas
Watering hose
Spigot Timer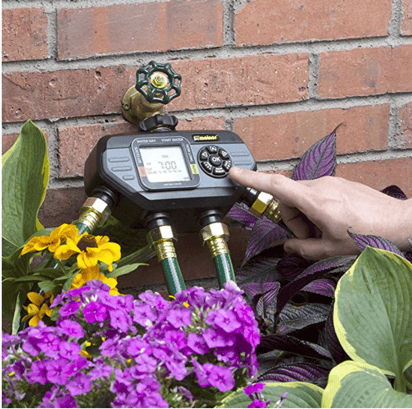 Your lawn will benefit more from being watered at certain times of day, than just watering at any old time. Sometimes, those hours are in the early-early mornings say 2 am... (Summertime, I'm looking at you!). Who wants to wake up at 2:00 am to start their sprinklers? Instead of adjusting your sleep schedule to the timing of your watering, just use a spigot timer!
Why Water So Early? Water absorption is higher in the morning. Less evaporation from the heat Chances of getting a fungus in your turf is significantly less. Watering at night and late evening can cause a fungus issue as you can trap moisture and heat in your soil.
These electronic (usually battery-powered) timers will allow you to set your sprinkler to go on automatically.
Most timers let you set the following specifications...
What time of day the sprinkler comes on
Duration of watering (how long the sprinkler remains on)
What days of the week the water comes on
Which hose(s) to flow water through at a given time
Rain delays (if it rains, you can set the system to a delay so you don't overwater)
You can see why a spigot timer is a basic necessity for a DIY sprinkler system; set it and forget it for a whole season. Here are a few spigot timers we found to be useful and may be helpful for you in your search. You can purchase these online, and they are very simple to install on your spigot. Check out our best recommendation for a spigot timer below!
Recommendations
Single Hose Timer
Our Suggestion:
Orbit 62061Z Single-Outlet Hose Watering Timer, 1, Green
Price: $29.99
Features:
Easy to set and use
Large easy-to-read digital display
Watering frequency from every 6 hrs up to every 7th day
Watering duration from 1 to 240 minutes
Durable, weather-resistant construction
Manual watering without interrupting programming
Where to buy: Amazon
Multi-Hose Timer
Our Suggestion:
Melnor 65038-AMZ HydroLogic 1-4 Zone Digital Water Timer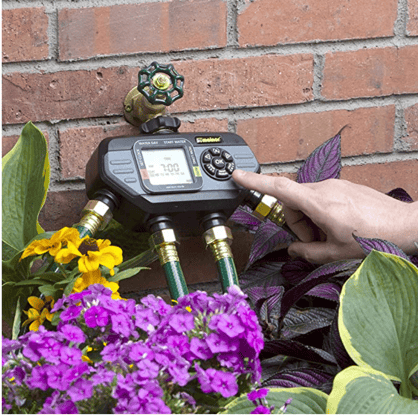 Price: $35.99–$55.99
Features:
Each zone has its own schedule, so you can water your tomatoes every morning and your lawn every other day.
Choose days to water and days to not. Whether it's to meet the needs of your garden or comply with local regulations, easily select which days to water.
Select up to 4 individual start times per day. It's your choice. Select up to 4 individual start times to water and provide the right amount of water at just the right time.
Easily skip watering when rain is in the forecast. There's no need to add extra water when Mother Nature is ready to do the job. Easily suspend watering for a day or two using the Rain Delay feature.
Where to buy: Amazon
Bluetooth Spigot Timer
Our Suggestion:
Orbit 21004 B-hyve Smart Hose Faucet Timer with Wi-Fi Hub, Compatible with Alexa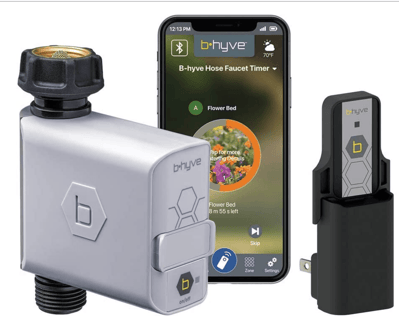 Price: $62-$269
Features:
1 line up to 4 lines
COMPLETE CONTROL: The B-hyve app is fully functional for Android, iOS, or web devices and gives you control wherever you need it, from anywhere in the world, program the timer using the app, or let the weather-based software create it for you
SMART WATERING: Weather sense technology provides watering based on site conditions such as slope, soil type, sun/shade, historical et, and live weather feeds it automatically adjusts your controller to deliver the right amount of water to your plants
CERTIFIED TO SAVE WATER: B-hyve is certified for the rigorous Water-Sense testing protocols, ensuring it will save you water
KNOW THE FLOW: The built-in flow meter allows you to track water usage and can be measured by gallons or by time ideal for all kinds of applications, including watering plants, gardening, washing your car, filling your pool, and greenhouse/hydroponics
EASY TO INSTALL AND USE: Setup is very straightforward and simple just download the B-hyve app and create an account, then install your timer at your hose faucet, then program your timer in minutes
Video:
Where to buy: Amazon
Watering Hoses
There are a lot of different hoses to choose from. Different materials, lengths, diameters, and more. We'll try to break it down as best we can for you.
You'll want your hose to be light enough to lay on the lawn without damaging it, but durable enough to last out in the weather and strong enough to not kink when it bends. Also, you'll want to make sure that you buy a hose that is long enough to reach the farthest point you need to get to, plus a little extra for some wiggle room.
Lighter Option
Our Suggestion:
TBI Pro Garden Hose Expandable and Flexible - Super Durable 3750D Fabric | 4-Layers Flex Strong Latex | No-Rust Brass Connectors with Pocket Protectors - Water Hoses for Gardening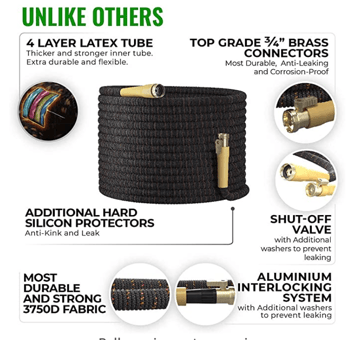 Price: $37.95- $49.95
50FT & 100FT Available
THE STRONG 3750D FABRIC AND 4-LAYER LATEX. We have developed this hose using high-quality materials to avoid most problems: 3750x3750D fabric to avoid bursts, 4-layer latex that is 3x more durable than 2-3 layers. Within seconds, a flexible garden hose expands from 17 to 50 feet in length. Our 50 Ft flexible and expandable garden hose will never kink, twist, burst or get tangled up during use.
ANTI-LEAK SYSTEM WITH PROTECTORS. The innovative design of this water hose comes with advanced connector protectors, which ensure there's no unwanted leakage while you're doing your work. Stop wasting money and time on expensive repairing.
ALL YOU NEED FOR QUALITY WATERING IN 1 SET. We have included in our set: Garden Hose 50ft, Shut-off valve, 4 Rubber Washers, and Storage box. That is all you need! This garden hose is made from a flexible material, making it extremely easy to use and adapt it to your needs. The lightweight material makes it maneuverable and easy to store once you're done with it.
RUST-FREE CONNECTORS. Unlike similar products on the market, this 50 Ft flexible and expandable collapsible water hose will not rust due to its superior quality brass connectors and shut-off valve. Use it with confidence every day!
DESIGNED IN THE USA FOR A WIDE RANGE OF APPLICATIONS. A universal choice not only for watering the garden but also for washing the house, car, yard, bathing pets and other purposes. associated with the need to use water.
Where to buy: Amazon
Medium/Heavy Option
Our Suggestion:
Flexzilla HFZG550YW Garden Lead-In Hose 5/8 In. x 50 ft, Heavy Duty, Lightweight, Drinking Water Safe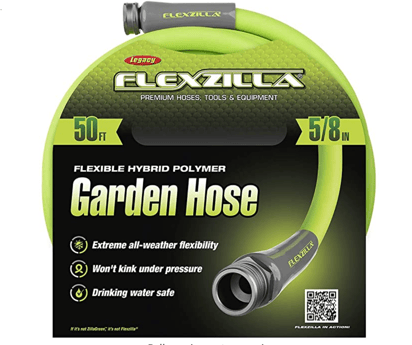 Price: $25.90- $49.00
10FT – 75FT Available
Extremely flexible – Our distinctive green hoses are built from a special polymer blend that allows for all-weather flexibility, even in subzero temperatures (-40° to 140°F), making it easy to use in the harshest conditions
Extremely durable – Purpose-built to handle any industry and environment. Abrasion-resistant outer cover and crush-resistant anodized aircraft aluminum fittings mean this hose is always ready to work
Won't kink under pressure – Our hoses are made from a special hybrid polymer that is memoryless, meaning it will lay flat, resist kinks, and can coil easily, making them a breeze to put away
Leak-free and drinking water safe - Each garden hose contains superior O-rings, ensuring a long-lasting and leak-free connection. Our hybrid polymer is lead-free, making all hoses drinking water safe
Lightweight - Lighter than traditional garden hoses making Flexzilla easier to carry and maneuver around the yard. Maximum working pressure at 70°F: 150 psi
Where to buy: Amazon
Sprinklers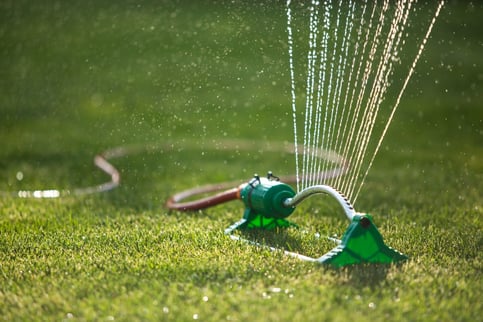 Which type of sprinkler is best? Oscillating? Classic Impact? Tripod? Well, an oscillating sprinkler may be good for coverage of the side of your house because it will swing back and forth to the thinner areas of your lawn. An impact sprinkler would be ideal for the corner of a large rectangular lawn because it can be set to a specific angle of coverage. A tripod sprinkler is raised and therefore would have better success getting water coverage up a hillside. Still, there are more types of sprinklers for maximum area coverage in large, open areas.
Long story short, different sprinklers are optimal for different purposes! Let's take a closer look–
Large, open areas of your lawn
Our Suggestion:
Segomo Tools 360 Degree Automatic Rotating Garden Lawn Water Sprinkler Irrigation System - GS360
This sprinkler throws out water from several locations at once. Its 360-degree spinning design distributes water to a wide range of grass very efficiently.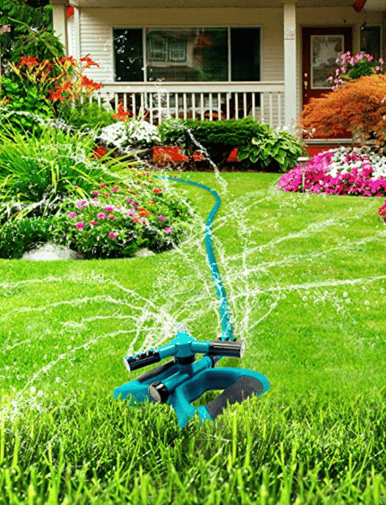 Price: $20.99
Coverage:
This sprinkler covers up to 3,600 square feet. The adjustable spray range makes it perfect to use on many lawn types and sizes.
Features:
Features 3 adjustable rotating arms and 12 built-in different angle spray nozzles that let you control the watering range to deliver powerful watering to cover every corner of your garden.
The sprinkler's spray can cover a distance of 30 feet range evenly with an 80 PSI water pressure.
Equipped with heavy-duty base stabilizers to secure the sprinkler in place and prevent it from wobbling or falling over due to water pressure while watering your garden or lawn.
Made from heavy-duty premium ABS material for strength and durability with TPR grip side handles for comfort and support and superior easy-to-connect hose fittings to prevent leaking.
Supplied with 1 x 1/2 inch quick hose connector, 2 x rubber gaskets, and 1 x black nipple. Great for irrigating your garden, lawn, trees, and agricultural lands as the water from the sprinkler falls in a uniform and rain-like pattern. Also great for fun summertime playing with kids and dogs.
Where to buy: Amazon
Side of your house
Our Suggestion:
Melnor 65049-AMZ Oscillating Sprinkler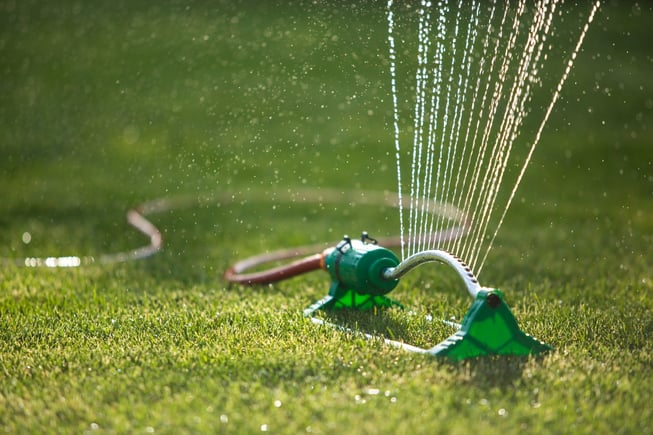 Price: $13.61
Coverage:
This sprinkler covers up to 3,400 square feet. The adjustable spray range makes it perfect to use on many lawn types and sizes.
Features:
Built-in rain gauge
18 nozzles to ensure even watering
Quickly connect and disconnect the sprinkler with an included Quick Connect Product Adapter (Requires Quick Connect Product End Connector sold separately)
7-year limited warranty
Where to buy: Amazon
On a hillside
Our Suggestions:
Orbit 58322 Traveling Sprinkler, Green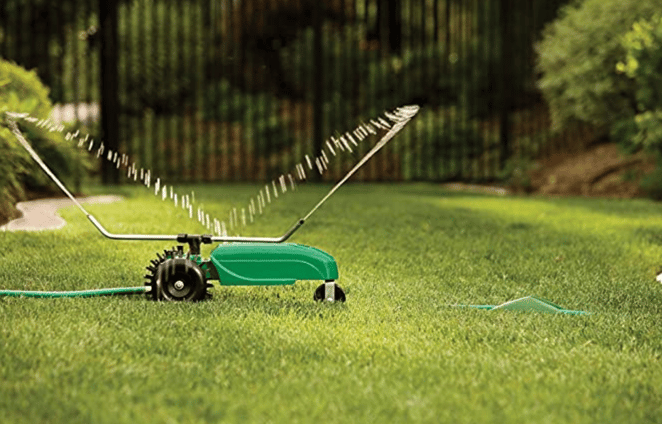 Price: $54.58
Coverage:
The adjustable spray range makes it perfect to use on many hills as you can adjust the diameter spray and it is self-propelled. For those that want the ease of automatic watering without the hassle associated with installing your own in-ground sprinkler system, this system is the one for you. It is self-propelled and can cover up to 13,500 square feet using a 200-foot hose.
Features:
Self-propelled traveling sprinkler with 3-position speed control that can travel along any hose path
Covers up to 13, 500 Square feet along 200 feet of hose, with automatic shut-off functionality
Rust-proof, cast-iron body for stability and durability
Adjustable diameter spray coverage (15 feet up to 50 feet)
Rotary spray for even and healthy water coverage
Where to buy: Amazon
In the corner of your lawn
Our Suggestion:
Orbit 56667N Zinc Impact Sprinkler on Tripod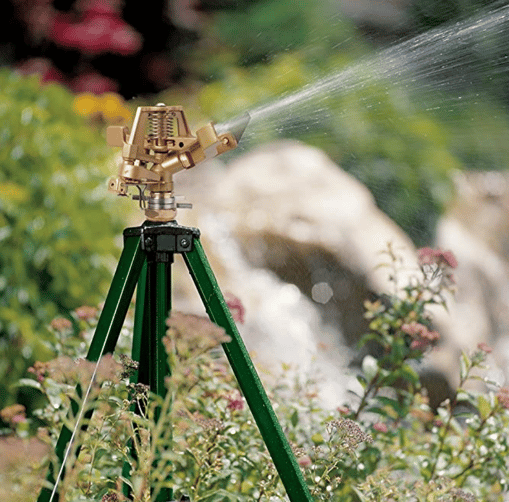 Price: $32.79
Coverage:
Sprays up to 85 feet in diameter, covering 5,670 square feet when set to a full circle.
Features:
LARGE-AREA COVERAGE: Sprays up to 85 feet in diameter, covering 5,670 square feet when set to a full circle.
DURABLE CONSTRUCTION: Quality zinc materials ensure it will last season after season.
ADJUSTABLE COVERAGE: Easily adjust spray coverage from a partial section to full 360° watering.
CUSTOMIZABLE SETTINGS: Use the deflector shield and diffuser screw to alter the stream and change the spray distance radius anywhere from 20 to 42 feet.
ANTI-BACKSPLASH ARM: Improves the sprinkler's ability to spray water in a consistent pattern and in the desired direction.
Where to buy: Amazon
Things to consider before purchasing a sprinkler system–
What is the size of your lawn? Each sprinkler system will advertise a coverage area that should be taken into consideration before you buy. If you are unsure of the measurements of your property, please contact our office and we will be happy to assist in verifying your property measurement.
What is the frequency of your watering? If you water frequently, consider investing in the in-ground system listed above. With just a few hours of your time, you can install an affordable system that saves you the hassle of moving sprinkler heads year-round.
How often does your area experience harsh weather conditions? Do you live in an area with harsh summer storms or winter weather? You may want to look for sprinklers composed of heavy-duty material such as brass.
Other Options:
DIY Inground
Rain Bird 32ETI Easy to Install In-ground Automatic Sprinkler System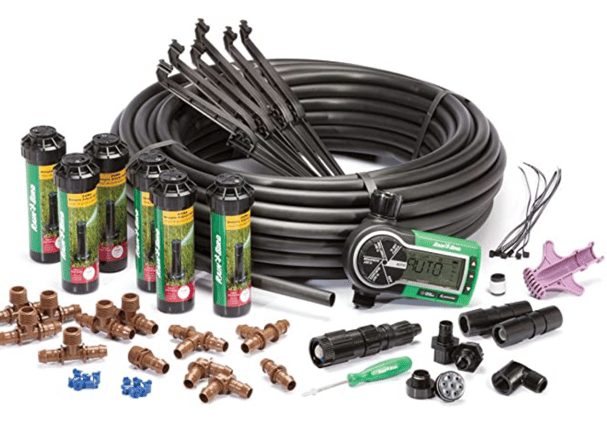 This sprinkler system is the best of both worlds. An in-ground system so Without the hefty upfront cost. The sprinklers automatically retract at The end of your desired watering time. By investing $136 and a few hours of your time, you can enjoy the ease of an in-ground sprinkler.
Price: $136
In conclusion, a DIY sprinkler system is an excellent way to water your lawn and garden efficiently and cost-effectively. With a little planning and some elbow grease, you can create a system that will save you time and money in the long run. Just remember to measure and plan carefully, use the right supplies and tools, and test the system before regular use.
Where to Buy: Amazon