Termite Control
Protect your home! Our Termite Control program is both effective and affordable.
Don't let termites terrorize your home!
Termites are particularly dangerous to your property because they will chew right through it!
Dual Action Termite Control
One technique monitors the perimeter of the home for activity while the other protects your home from termite invasions for many years.
What To Expect
Protect Your Home!
We are committed to helping you monitor or remove termites from your property so it is protected from these destructive insects.
Feeding On Your Property
Out of all of the pests you can have on your property, termites can be some of the worst. Not only can they eat you out of house and home, but it might also be a while before you even know you have a termite infestation. Our program is designed to monitor for termites for you so that you can catch an infestation early and avoid extensive damage.
Dual Action Termite Control
Top Turf termite control specialists are knowledgeable in building construction, termite biology, termite behavior, and the proper and safe use of pesticides. You're in good hands with a Top Turf specialist.
Our treatment is dual action in order to better protect your home. It consists of two state-of-the-art termite defense techniques providing homeowners with maximum protection from costly termite damage.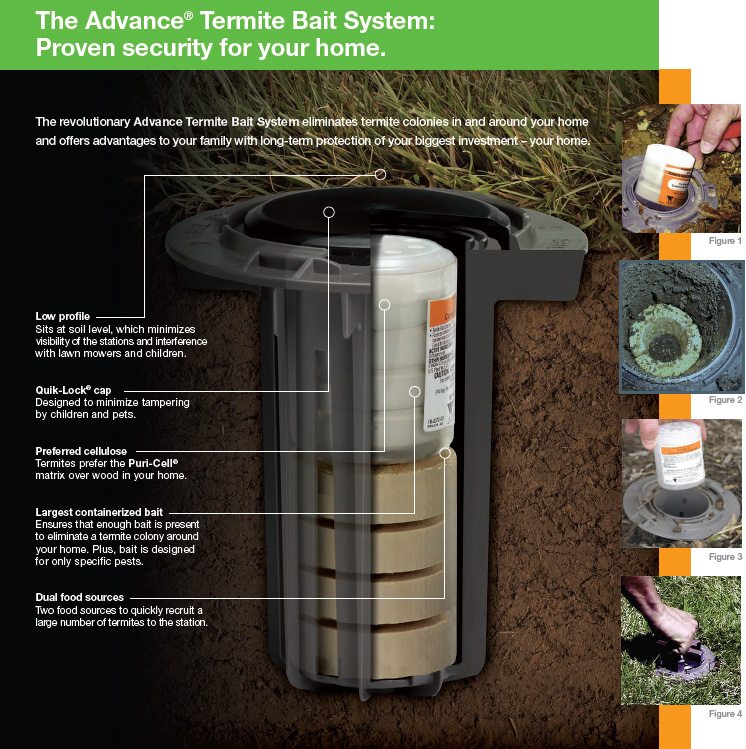 ** When all active termite colonies are eliminated, there is always the possibility that a new colony can re-populate. For this reason, we do not remove the bait stations from your perimeter after elimination. Instead, we will return on a quarterly basis to re-inspect the bait stations to ensure that re-infestation does not occur, unless you decide to cancel the service.
What our customers think...


Super pleased with the quarterly termite inspection, I received real time response... recently Alex came to do my inspection and left a detailed note the same day. Thank you!!
Sayra J.
Termite Control Customer


Termite control installation. Excellent work! Professional performance! Knowledgeable of process.
Beverly M.
Termite Control Customer


Alex monitors our house for termite activity and always takes the time to explain to us what he's looking for and when he has concerns. I used to worry about termites eating our house away but I always have peace of mind knowing he is always on the lookout for us.
Carrie K.
Termite Control Customer
Stop termites from terrorizing your thoughts!
Our termite treatment will keep your property unbothered by termites
With your property protected from termites, you have more time to enjoy it with your family, friends, and pets
No worries about damage to your home
Let the good times roll!
Ready to start service?